2023 Millions for Tucson Raffle
The Jim Click Automotive Team is presenting a NEW 2023 Ford Bronco Raptor to the entire community to be used as the featured prize in our ongoing effort to raise millions of dollars for non-profit organizations in Southern Arizona. With your $25 contribution you could win this stunning vehicle or one of two other great prizes! The best part is that 100% of your contribution will support Southern Arizona charities that keep all the proceeds from the maximum 100,000 tickets which will be sold. The drawing will be held on December 14, 2023. Entries must be received by December 8, 2023 at Raffle Headquarters.
The Raffle Management Office is located in the Ironwood Financial building, 1926 E. Ft. Lowell Road, Suite 102, near the SE corner of Ft. Lowell and Campbell just east of Walgreens. The Raffle Management Office entrance is just south of the main door and has signage.
The Raffle Management Office is open Monday-Thursday, 10:00 am to 4:00 pm, and Fridays, 10:00 am to 1:00 pm.
or contact:
Russell Public Communications
520-232-9840
for more details about the raffle.
Contribution Request Guidelines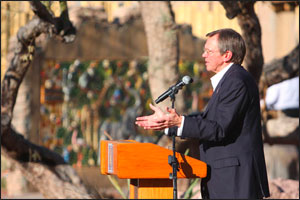 To discuss any information regarding the Millions for Tucson Raffle, please contact Russell Public Media above. Should you require any other information simply download our form and complete the following steps and submit the information to either [email protected] or to:
Mr. Jim Click, Jr.
P.O. Box 12399
Tucson, AZ 85732
*All correspondence should be addressed directly to Mr. Jim Click, Jr.
(* After the form is downloaded, right click on the .zip file and select "Open". Please make sure you are using the most updated version of a ZIP file opener.)
Step 1
Prepare a proposal letter, including the following information:
Organization description: summary of mission and objectives, contact name, address and phone number.
Project description: specific assistance needed, how it will help the Tucson community, dates and ticket prices or fees, if applicable. Also, please include deadlines for any advertising benefits that come with sponsorship.
Step 2
Please attach the following documents:
Project/program budget detailing expenses, anticipated income sources and any previous funding by Jim Click Automotive and/or the Click Family Foundation.
Current list of business and foundation donors?
Current annual operating budget with income and expenses.
Copy of your organization's IRS 501(c)3
List of your organizations Board of Directors and their contact information.
These requests are considered based on the information provided in steps 1 and 2 above and must align with our overarching categories: Persons with Disabilities Development, Community Education, Childhood Development, At-Risk Youth and Community Development. Most of our contributions are determined through annual budgeting process.
We make every effort to respond to requests in a timely manner.