The 2015 Raffle was a Success!
Final numbers:
484 Participating Southern Arizona charities (Record!)
$1,220,025! Raised (Record!)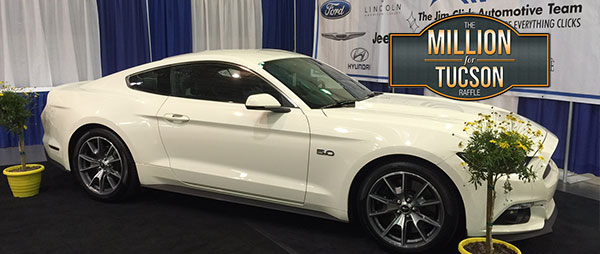 Billed as a community forum focused on overcoming challenges from prior convictions, Wednesday's Second Chance Tucson event drew a crowd of more than 300 to the historic Fox Tucson Theatre. The event featured authors Michael
Since coming to Tucson in 1971, our automotive business has grown to 11 dealerships in Tucson and Green Valley.
We are grateful for the community's generous support of Jim Click and Holmes Tuttle Automotive businesses. That support has allowed us to proudly give back to the Tucson Community through the Jim Click Automotive Team, Click Family Foundation and the Click Charitable Contributions Program for the past 38 years.
With the understanding that one company cannot meet the multitude of needs each community faces, it is our mission to strengthen organizations and programs that are located where our customers and employees live, work and care for their families.
Each year, we are pleased to contribute in a variety of different ways. Our key community investment areas include: Persons with Disabilities Development, Community Educational, Childhood Development, At-Risk Youth, Community Developments. However we do not limit to just these areas. For a full listing, please click here.
Jim Click, Jr
President